WELCOME to the "
Welcome Wednesday
" blog hop, hosted by
Take It From Me
!
Welcome Wednesday
is a great way to meet new people and learn new things as well as increase your blog followers! So let's have some fun!!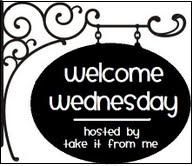 If you want to be a part of

Welcome Wednesday,

just follow these 5 simple steps:
1. Follow the Welcome Wednesday Host (Take It From Me) as well as the 2 Spotlighted Blogs of the Week. (These will make up the top three slots on the Linky)
2. Link up your blog name and URL with our Linky. (You only need to add your info once for it to be seen on all the blog hops)
3. Grab our Welcome Wednesday button and include it in a post about the event on your blog.
4. Go to as many blogs on the MckLinky as you want and Follow them. Be sure to tell them you are from Welcome Wednesday!
5. Be sure to Follow back any followers you have gained from our Welcome Wednesday event!
------Blog Spotlights of The Week-----
1.) Stacie from
Luster Canyon
writes:
Luster Canyon derived from the need for products I could use on my own overly sensitive skin. That first batch of handcrafted lotion has grown into my passion for creating and sharing the benefits of my products with others. Stop by my blog and read about our products, new creations and find out more about me, Stacie, my family and some of the random life moments that present themselves as I mix and measure my way through this adventure.
2.) Sey from
14th Street
writes:
My blog is the manifestation of my personal love for writing and also serve as a way of documenting my life's ups and downs in life. "14th Street' is a place I envisioned as one where people live together in peace, love and respect for each other either life is good or bad.
I am a simple lady, trying to pursue my dreams and one of them is becoming a writer which is my hidden desire since I was a child. Writing a good article for my blog is a satisfaction for me and these are my masterpieces because I believe that "Far and Away, the best prize which life has to offer is the chance to work hard at work which is worth doing - and one of them is blogging"
What's neat about our Blog Hop:
-Put the same linky list code on your blog and you'll have the exact same list!
- Your blog visitors can add their blog to your list and it will show up on Everyones lists!
- By adding your blog
YOU MAY BE RANDOMLY CHOSEN FOR OUR BLOG SPOTLIGHT OF THE WEEK
!!!!
**Leave a comment with your blog address and we will follow you back**