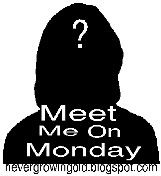 Linking up once again with Java at Never Growing Old for Meet Me On Monday... this week's questions (and answers!)...
1. What is your favorite sandwich? Grilled Cheese with Velveta Chesse
2. What is stashed under your bed? We have drawers under our bed - so we keep clothes, sheets/pillowcases and videogames under the bed.

3. What is your favorite flower? My favorite is the snap dragons.

4. What is your favorite magazine? I like glancing through the parenting magazines.... Every now and then they have good tips and tricks. :D

5. How often do you weigh yourself? Too Often... Every week... until i saw that i was a standstill or started gaining a pound or two...and got frustrated...then i stopped.


Happy Monday!