Follow Me Back Tuesday
Follow Me Back Tuesday is another day of the week that you can gain more followers and find other great blogs to follow on a weekly basis. Follow Me Back Tuesday is hosted by Survey Junkie, Little Yaya's, Review Retreat and Boobies, Babies & A Blog. Be sure to stop by and welcome our guest host Jenn at her blog, A Daily Scoop Of Chaos!
It's a great way to start off your week and get more BF's !!
Each week we will choose a random number every week from the blogs linked and add the random blog to the #5 spot to link to the following week ...
Next Tuesday (7/13), our Guest Spot will be the Mission Monkey raffle Winner but we will go back to a random weekly 5 Spot after that :)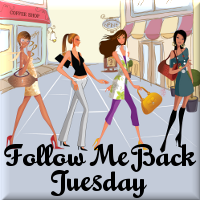 How it Works
Follow the 5 hosts, #1 – 5, ( leave us a comment & we will follow you back- only leave a comment if you follow please ).

Create a blog post about FMBT (you may copy this post if you wish).

Follow as many blogs as you would like ( Leave a comment so they can follow you back).

When you receive a comment from a new follower return the favor & follow them back.
***Please link directly to your Follow Me Back Tuesday Post. Links that lead directly to your personal blog hop will not be accepted and will be deleted.***
The code will be available every Tuesday at 12:00 a.m (EST) on all 4 hostesses blogs.